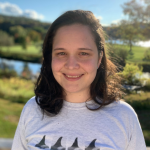 Georgia Doing
Postdoctoral Fellow, The Jackson Laboratory
Lab: Julia Oh
PhD Conferral: 2022, Molecular Biology, Dartmouth College
Research Interests: Microbiome
I am driven by the stories microbes tell in order to live. My goal in research is to understand the functional diversity of the human microbiome by developing computational tools to facilitate the characterization of less studied species, strains and genes. Deciphering transcriptional signals is a powerful approach for accomplishing this goal, as the expression levels of all genes, regardless of annotation status, can be captured and identifiable patterns of gene expression reflect the realization of genetic potential.
Patrick Grady
Postdoctoral Fellow, Institute for Systems Genomics
Lab: Rachel O'Neill
PhD Conferral: 2023, Department of Molecular and Cell Biology, University of Connecticut
Research Interests: Genome assembly, sequencing technology, chromosome evolution, conservation biology
My research is focused on enhancing the development and practical applications of telomere-to-telomere (T2T) genomic resources and methodologies, particularly for non-model organisms. This field has been evolving since its inception with the CHM13 human genome project, but there's still much work to be done in adapting these techniques for non-model species with more limited research history. T2T methods and resources are pivotal in advancing our understanding of chromosomal and gene evolution, providing valuable insights into the genetic mechanisms underlying the diversity of life. I have utilized cutting-edge technology from Oxford Nanopore Technologies and Pacific Biosciences to successfully assemble 13 T2T or sub-T2T genomes from karyotypically diverse marsupials. These genomes allowed identification of major factors in chromosomal fission and fusion, currently in preparation for publication. Additionally, with comprehensive gene and repeat information, they are valuable assets for further scientific investigations. The pipeline I employed for these assemblies incorporates a combination of publicly available tools and customized code, ensuring accuracy and adaptability in the genomic analysis process. I plan to expand the application of these resources to additional lineages, broadening our knowledge of biodiversity. These genomic insights will enable us to implement genome-aware conservation strategies to protect wild populations that are particularly vulnerable to the impacts of climate change or other man-made issues.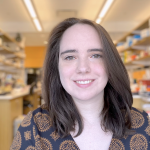 Gabrielle Hartley
Postdoctoral Fellow, Institute for Systems Genomics
Lab: Rachel O'Neill
PhD Conferral: 2023, Department of Molecular and Cell Biology, University of Connecticut
Research Interests: Genome biology
My research interest combines molecular and computational approaches to investigate the properties that underly genome integrity and chromosome evolution. My work encompasses a diverse group of non-model species to assess genome evolution, including a breadth of non-human primates with an emphasis on lesser apes. In addition, my work extends findings in non-human primates to a number of other species, including marsupials and other non-model organisms. Over the course of my graduate and post-doctoral work, I have established skills including genome sequencing with next generation and third generation sequencing, in situ hybridization and cytogenomics, as well as a number of techniques in functional genomics including epigenetics, transcription, and chromatin states. I have both generated and analyzed genomic data for several non-model organisms, including genome assembly, functional and repeat annotation, and analysis of chromosome evolution. As such, I have been involved in several consortia dedicated to the advancement of genomic resources, including the T2T Consortium and Earth Biogenomes Project. As a graduate and post-graduate, I have published 11 papers with several in preparation. Combined, these skills prepare me to interrogate questions in comparative genomics across non-human primates.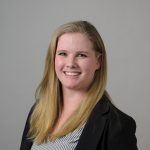 Nicole Tillquist
Postdoctoral Research Associate, Department of Animal Science
Lab: Kristen Govoni
PhD Conferral: 2023, Department of Animal Science, University of Connecticut
Research Interests: Fetal Programming, Epigenetics, Nutrition, Physiology
Nutrient restriction during gestation can negatively impact the efficiency of livestock production by generating offspring with decreased muscle mass, increased adiposity, and impaired metabolism. The mechanisms behind these altered phenotypes are not well-characterized. The effects of poor maternal nutrition are evident across subsequent generations, demonstrating long-term negative effects on the livestock. Poor maternal diet alters offspring small intestinal development which may contribute to poor growth and development. Our overall project goals are 1) to determine the effects of maternal nutrient restriction on fetal small intestine development and 2) to determine the effects of maternal nutrient restriction on fetal small intestine mRNA expression and DNA methylation patterns. We hypothesize that 1) maternal nutrient restriction will decrease fetal small intestine weight, increase small intestine length, decrease villus height, and decrease crypt depth and 2) will alter the mRNA abundance of key nutrient transporters and DNA methylation patterns in the fetal small intestine. Ewes will be fed a restricted or control diet from d30-d130 of gestation. Fetal small intestine measurements and samples will be collected at d130 of gestation. Histological analysis will be performed to evaluate villus height and crypt depth. Changes in gene expression and methylation patterns will be determined. The current proposal will identify mechanisms by which maternal nutrient restriction impacts offspring growth, providing opportunities to develop strategies to improve animal production and livestock animal health.